Want to create a campaign just as beautiful and effective as your last? Why not copy or reuse the campaign you want to recreate? At the bottom of the left navigation while managing your campaign, there are 4 icons. The icon on the far right will reset the promotion, clearing all entries and stats so you can start the campaign again and collect all new information.
Reset the Promotion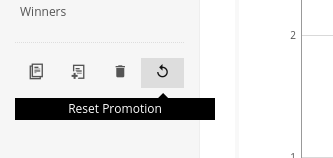 Making a Copy of a Promtoion
The icon on the far left will copy the promotion. This will make an exact copy of the campaign but without entries or submissions. *You can copy an offer to the same page, or to one of your other businesses. Copied promotions will have a new/unique URL.