The customize section has seen some drastic overhauls over the past year. We have redesigned the user interface to better suit the trending user experience needs. Here are a few tips on how this new interface works and where to find all of the features you had before, and then some!
Add Component (now 'Elements')
In the Customize section of your campaign, you can add a number of different elements to the promotion. To do so, select the page you want to add a component to, click Elements in the left navigation, then select the element you would like to add to the page.

How to edit your options:
Each element has an "Edit" button that appears in the upper right corner on hover. Some elements have certain display controls hidden inside, like this gallery element in a Photo, Video or UGC Contest: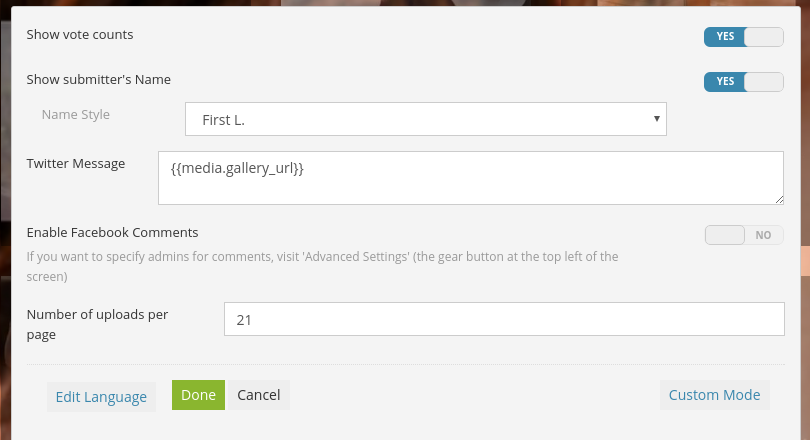 Layout and Alignment:
After our latest update, text customizations such as font, size, color, and alignment is now located in the toolbar that appears at the top of your screen after selecting a text element:



This toolbar is also now where you can adjust the position of the element (the arrow icons) or delete the element with the trash-can icon.

To cycle through the display options for a voucher in a Coupon or Instant Win campaign, use the dropdown menu in the Styles tab after selecting the voucher element:


Form Fields:
For each campaign, you are able to fully customize the entry form. To do so, hover your mouse-cursor over the entry form and select "Edit":
From here you can add a form field by selecting the button labeled "+ Add Form Field." You can click on the pencil-and-paper icon next to a form field to manage the label or other options for that field.
Styles tab:
Click the Styles tab in the left navigation to edit background images and/or colors, the default font for the campaign, and access Advanced Options where you can adjust the background width, max width of the promotion's pages, etc. These settings will affect the entire campaign.
Clicking on a particular element will change the Styles tab and the settings will affect only that element.
Reset Styles
: Clears background colors/styles.
Custom coding:
Click Code to access the CSS and Javascript sections to add custom code (Javascript is available on the Growth plan and above).

Guided Tour:
There is also a guided "tour" of the Customize section that can be accessed by clicking the "?" icon in the left navigation of the Customize screen. We recommend that you take the tour to stay informed on all the updates!